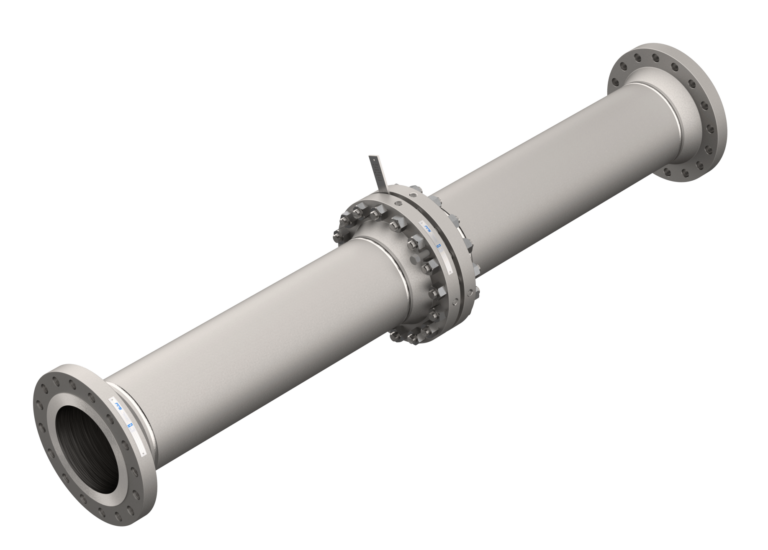 +/- 0.5 to 0.75% Uncalibrated Uncertainty
Liquids and Gases, pipe spools included
Honing available
Meets ISO, AGA, ASME, API Requirements
Supplied with any combination of NDE required
Description
Orifice Meter Runs are complete flow measurement devices, ready for installation, that include a manufacturer installed Orifice Union and Orifice Plate and the required up & down stream pipe sections. Stated uncertainties are contingent upon all code prescribed tolerances and finishes being met. The selection of a complete meter run ensures full conformance to all code specified geometric tolerances and finishes. In cases of smaller line sizes, the pipe sections may require honing in order to be compliant with the applicable code required finish. A fully fabricated run, complete with any variation of NDE required, is the only way to ensure this compliance.
Specifications
Line Size
½" to 48" Standard (special sizes available)
Head loss % of Differential
30% to 70% Beta Dependent
Basic Accuracy (% of Total)
+/- 0.25 (Calibrated) +/- 0.50% to 0.75%, Beta Dependent (Uncalibrated)
Minimum pipe Reynolds number
Must be greater than 10,000, Added uncertainty under 10,000
Required Straight Piping
Per ISO, AGA, ASME, API standard as applicable, 5 to 70 Pipe Diameters
Beta Range
0.20 to 0.75
Useful Service Life
Long, Check Periodically if Erosive Fluid is a Concern
Service Functional Limits
Clean liquids & gases
Vent or Drain Holes
Vent or drain holes are available to let trapped gas or condensate pass
Support and Service
In addition to a wide range of differential producing Venturi flow meters, orifice plates, WedgeType™ flow meters, and open channel flow elements, PFS provides comprehensive, specialized services for new and existing flow meters, including rehabilitation, hydraulic analysis, and full engineering support.
Certifications
ISO 9001, ASME S&U, PED Certified, CRN.