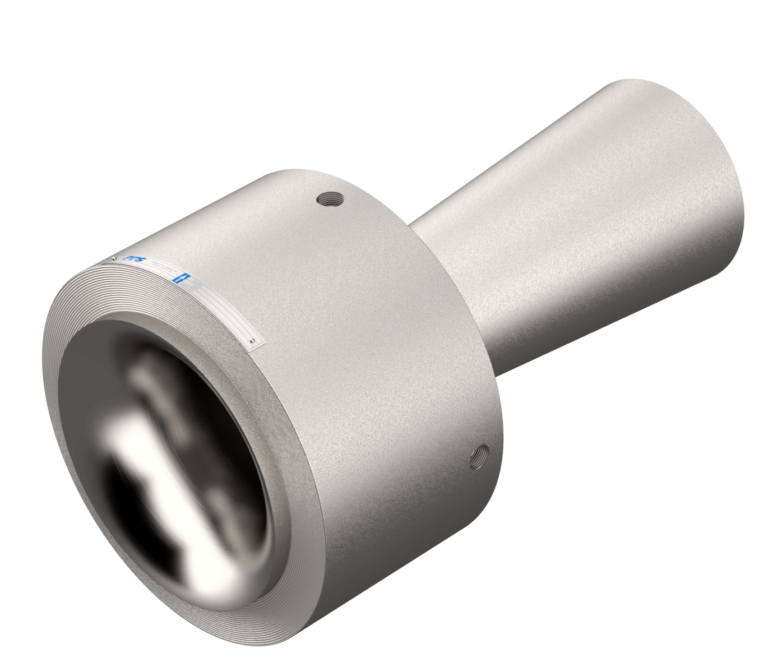 +/- 0.25% Always Calibrated
Highest Accuracy / Repeatability
Line size: 4 to 28 inches
Head loss (permanent pressure loss) in % of Differential: 60% to 85% (18% to 25% with optional outlet diffuser cone), Beta Dependent
Recommended Application, THROAT Reynolds Number: Greater than 500,000
Description
The ASME PTC-6 Throat Tap Flow Nozzle provides the highest possible dP device accuracy and precision which is needed for the testing of steam turbine efficiency as prescribed in the ASME PTC-6 2004 Performance Test Code. The PTC-6 Flow Nozzle is supplied complete with integrated up/down pipe spools, a flow conditioner and with an optional nozzle outlet diffuser cone for considerably reduced pressure loss.
All PTC-6 Flow Nozzles supplied by Primary Flow Signal are guaranteed to meet the strict laboratory calibration criteria required to maintain the uncertainty needed for turbine performance testing.
Specifications
Standard Line Size
4 to 28 inches (not limited to)
Head Loss (permanent pressure loss) in % of Differential
60% to 85% (18% to 25% with optional outlet diffuser cone), Beta Dependent
Basic Accuracy (% of Total)
(Always Calibrated) +/- 0.25%
Recommended Application, THROAT Reynolds Number
Greater than 500,000
Required Straight Piping
20D Upstream / 10D Downstream
Beta Range
0.25 through 0.50
Useful Service Life
Medium to Long
Service Functional Limits
Clear Liquids, Gas and Steam, Typically Hot Water
Applications
Steam and Water
Common Materials
Carbon Steel, Stainless Steel, Chrome Moly
Other Available Materials not limited to
Aluminum, Zirconium, Hastelloy, Monel, Duplex SS, Titanium, Tantalum, 321SS
Note(s)
The PTC-6 flow nozzle is a specialized dP device and is required to meet stringent laboratory calibration criteria to be acceptable for use. The risk associated with laboratory failures and the legitimacy of laboratory data should be heavily considered when selecting a supplier for your PTC-6 application. All Primary Flow Signal PTC-6 supplied units are independently calibrated at a leading High Reynolds calibration facility and are guaranteed by PFS to meet PTC-6 calibration criteria.
Support and Service
In addition to a wide range of differential producing Venturi flow meters, orifice plates, WedgeType™ flow meters, and open channel flow elements, PFS provides comprehensive, specialized services for new and existing flow meters, including rehabilitation, hydraulic analysis, and full engineering support.
Certifications
ISO 9001, ASME S&U, PED Certified, CRN.