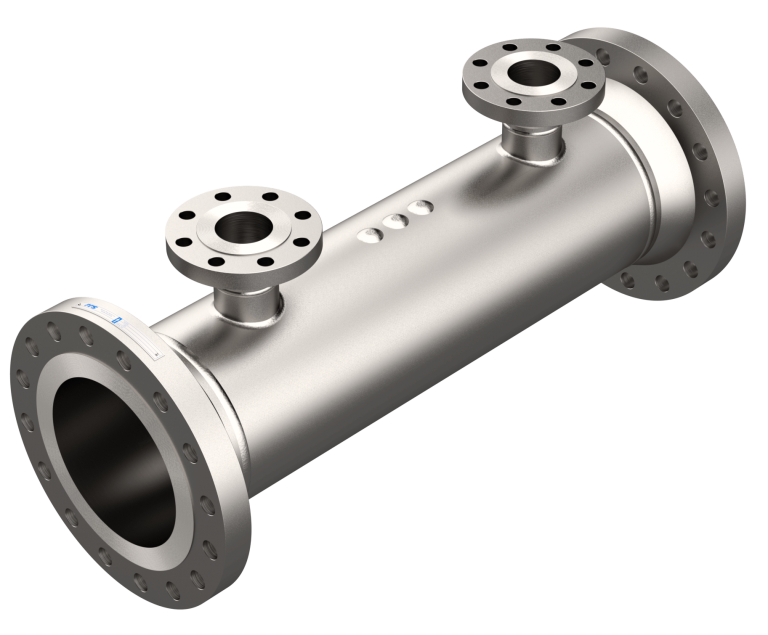 +/- 4.00% Uncalibrated Uncertainty
Dirty liquids and Slurries
Line size: 1/2 to 30 inches
Head loss % of Differential: 25 to 60 percent
Recommended pipe Reynolds number: Must be greater than 500 for basic accuracy
Description
The WM wedge flow meter consists of a pipe inside which a V-shaped wedge is fitted. The basic system consists of a piping configuration into which a constriction "wedge" is fabricated thereby leaving an open segment of a known height. They are used for various process applications and conditions, especially slurries, suspended solids or viscous liquids. They can also be used for clean liquids, gas, air and steam.
Low pipe Reynolds flow applications can be measured with relative accuracy and the discharge coefficient is stable through the application range. The differential pressure is measured by a differential pressure transmitter.
Specifications
Line Size
1/2 to 30 inches
Head loss % of Differential
30 to 85 percent
Basic Accuracy (% of Total)
| Line Size | Wet Calibrated | Uncalibrated |
| --- | --- | --- |
| 1/2" | +/- 0.75 | +/- 5.00 |
| 1-30" | +/- 0.50 | +/- 3.00 |
Minimum pipe Reynolds number
Must be greater than 500 for basic accuracy
Required Straight Piping
Consult PFS for required US & DS piping based on your specific application
Beta Range
0.25 through 0.80
Useful Service Life
Medium to Long depending on service
Service Functional Limits
Clear Liquids, Gas, Steam, Slurries, Suspended Solids, Viscous Liquids
Applications
Liquids with suspended solids, Chemical and Petrochemical industry, Pulp and paper industry, Mining, Oil, Gas, Refineries, High Viscosity Corrosive, Abrasive Liquids
Common Materials
Carbon Steel, Stainless Steel
Other Available Materials not limited to
Aluminum, Zirconium, Hastelloy, Monel, Duplex SS, Titanium, Tantalum, 321SS, Chrome Moly
Support and Service
In addition to a wide range of differential producing Venturi flow meters, orifice plates, WedgeType™ flow meters, and open channel flow elements, PFS provides comprehensive, specialized services for new and existing flow meters, including rehabilitation, hydraulic analysis, and full engineering support.
Certifications
ISO 9001, ASME S&U, PED Certified, CRN.