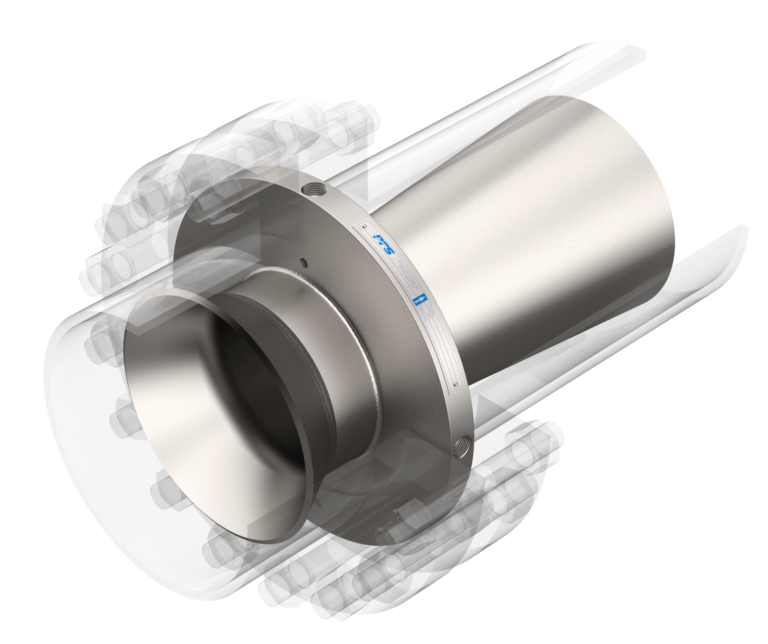 HVT-FI Fabricated Insert Venturi / HVT-PI Plastic Insert Venturi
+/- 0.50% Uncalibrated Uncertainty
Low Loss, Internal / Flange Mounted
Line size: 3 to 144 inches
Head loss % of Accuracy: 3.50 to 10.0 percent
Recommended pipe Reynolds number: Greater than 75,000 for basic accuracy
Description
Overview
Designed to be inserted between flanges, the Insert Venturi Meter can be custom fabricated with almost any available machinable material, including fiberglass
(For metallic fabrication, see HVT Fabrication Insert datasheet or for fiberglass fabrication, see HVT Plastic Insert datasheet)
This meter pressure and temperature limits integrate automatically into the existing pipe line and delivers high accuracy metering. It is ideal for measuring clean gases or liquids. Static inlet taps and a grouted-in design is available for large line sizes. The HVT- Digester Gas models can be fitted with high and low pressure tap vent cleaners to allow the clearing of buildup on the piezometer taps.
Specifications
Line Size
3 to 144 inches. Larger sizes available upon request.
Head loss % of Differential
3.50 to 10.0 percent
Basic Accuracy (% of Total)
+/- 0.25 (Calibrated) +/- 0.50 (2 Sigma) (Uncalibrated)
Minimum pipe Reynolds number
Must be greater than 75,000 for basic accuracy
Required Straight Piping
Consult PFS datasheet
Beta Range
0.20 through 0.80
Useful Service Life
Very Long
Service Functional Limits
Clear liquid, gas, and digester gas
Applications
Potable Water, Water Treatment Plant, Wastewater Treatment Plant, Air, Gas, Clean Liquids
Common Materials
| Meter Type | Body | Throat |
| --- | --- | --- |
| FI (Fabricated Insert Venturi) | 304SS or Carbon Steel | 304 or 316SS |
| PI (Plastic Insert Venturi) | Fiberglass (FRP) | 304 or 316SS |
Other Available Materials not limited to
Aluminum, Zirconium, Hastelloy, Monel, Duplex SS, Titanium, Tantalum, 321SS
Support and Service
In addition to a wide range of differential producing Venturi flow meters, orifice plates, WedgeType™ flow meters, and open channel flow elements, PFS provides comprehensive, specialized services for new and existing flow meters, including rehabilitation, hydraulic analysis, and full engineering support.
Certifications
ISO 9001, ASME S&U, PED Certified, CRN.