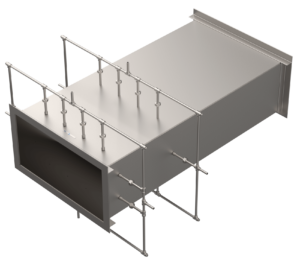 HVT-RV Rectangular Venturi
+/- 0.75% Uncalibrated Uncertainty
Low Loss, For Rectangular Conduits
Line size: 1/2 to 96 inches. Larger sizes available.
Head loss % of Differential: 5.0 to 12.0 percent
Recommended pipe Reynolds number: Greater than 75,000 for basic accuracy
Description
The HVT designed Rectangular Venturi Meter offers substantial design and engineering flexibility with end arrangements. (flanged, mechanical joint, weld end, etc.) combined with various body materials and coatings to achieve pressure, temperature, flow range, line fluid, line size, laying length and cost objectives as dictated by the specific applications.
The Rectangular Venturi Meter design provides the same basic performance as the circular design (accuracy and head loss) without the need to transition from rectangular duct to circular for the purpose of achieving high accuracy flow measurement.
There are no specific size limitations and the meter profile can be made of cast in place concrete which incorporates a machined inlet and throat section that is also cast in place. A wider variety of secondary instrumentation is available including direct interface taps, multi-taps and sealed diaphragm sensors.
Specifications
Line Size:
1/2 to 96 inches. Larger sizes available.
Head loss % of Differential:
5.0 to 12.0 percent
Basic Accuracy (% of Total):
+/- 0.50 (Calibrated) +/- 0.75% (Uncalibrated)
Recommended pipe Reynolds number:
Greater than 75,000 for basic accuracy
Required Straight Piping:
Consult PFS datasheet
Beta Range:
0.30 through 0.75
Useful Service Life:
Very Long
Service Functional Limits:
Air and gas
Support and Service
In addition to a wide range of differential producing Venturi flow meters, orifice plates, WedgeType™ flow meters, and open channel flow elements, PFS provides comprehensive, specialized services for new and existing flow meters, including rehabilitation, hydraulic analysis, and full engineering support.
Certifications
ISO 9001, ASME S&U, PED Certified, CRN.