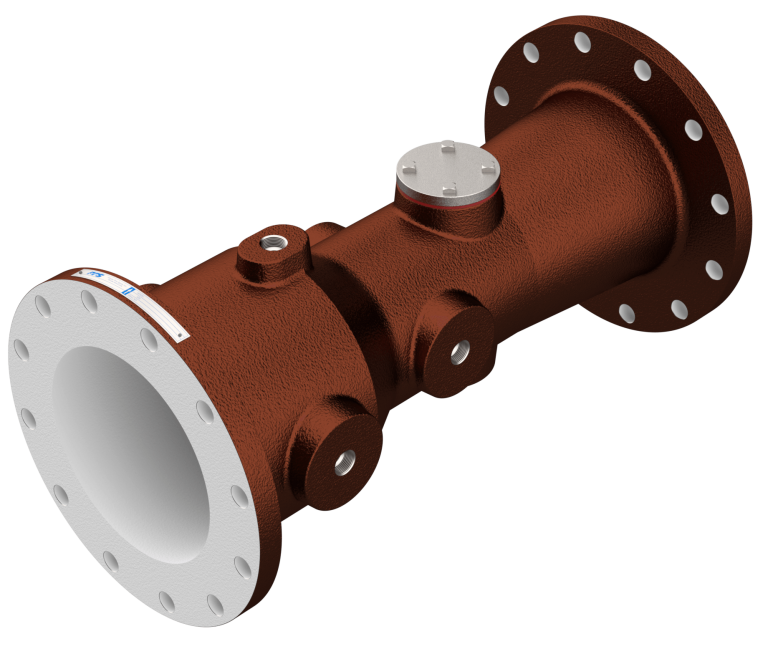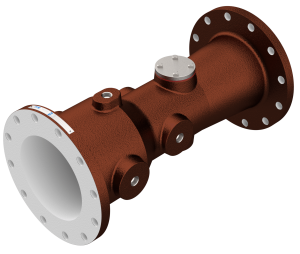 HVT-CI Cast Iron/ HVT-DI Ductile Venturi
+/- 0.50% Uncalibrated Uncertainty
Low Loss, Municipal & Industrial Applications
Line size: 4 to 96 inches.
Head loss % of Differential: 3.50 to 10.0 percent
Recommended pipe Reynolds number: Greater than 75,000 for basic accuracy
Description
Overview
The HVT-Halmi Venturi Flow Element in Cast Iron and Ductile Iron form is offered exclusively by Primary Flow Signal, Inc. for the highest accuracy and reliability for flow measurement of pressurized line fluids, including liquids and gases, as well as high-viscosity line fluids, solids-bearing line fluids, and harsh or contaminated line fluids.
The Cast Iron (HVT-CI) is well proven in municipal water and wastewater flow measurement and control applications, as well as air and other gases.
The Ductile iron (HVT-DI) version is available for higher line pressure applications.
Flow Control
The HVT design is optimal for use with close-coupled butterfly valves to form highly efficient and effective flow rate controllers for filter effluent control. See Rate of Flow Controllers for more details.
Solids Bearing Flow
The HVT design is also available configured with remote diaphragm seals making sewage flow measurement cost effective, accurate, and reliable without the concern for blocked pressure taps. See Sealed Meter System datasheet for more details.
Complete Section
For turnkey installation a PFS Flow Master system can be provided along with any dP measurement device providing fully integrated control, management and reporting capabilities.
Specifications
Line Size
4 to 96 inches. Larger sizes available upon request.
Head loss % of Differential (Venturi)
3.50 to 10.0 percent
Basic Accuracy (% of Total)
+/- 0.25 (Calibrated) +/- 0.50 (2 Sigma) (Uncalibrated)
Minimum pipe Reynolds number
Must be greater than 75,000
Required Straight Piping
Consult datasheet for required US & DS piping based on your specific application
Beta Range
0.30 through 0.75
Useful Service Life
Very Long
Service Functional Limits
Clear liquid, gas, contaminated and solid-bearing line fluid
Applications
WTP Filter Effluent Rate of Flow Control, Special Lay-lengths to fit existing piping constraints, Potable Water, Water Treatment Plant, Wastewater Treatment Plant
Common Materials
Cast Iron or Ductile Iron body with 304 or 316SS throat
Support and Service
In addition to a wide range of differential producing Venturi flow meters, orifice plates, WedgeType™ flow meters, and open channel flow elements, PFS provides comprehensive, specialized services for new and existing flow meters, including rehabilitation, hydraulic analysis, and full engineering support.
Certifications
ISO 9001, ASME S&U, PED Certified, CRN.